Raw and Natural Dog Food – Brandy`s Diet
Our female Vizsla Brandy as previously mentioned is on a "Frankenprey" (prey model feeding) BARF diet (Biologically Appropriate Raw Food) diet, which means only raw meat, organs and bones.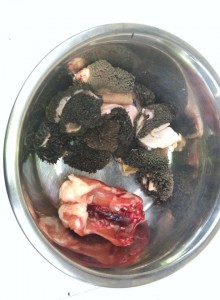 We believe that raw and natural food is the only way to go in regards to maintaining good health and avoiding extra veterinarian costs. Brandy`s diet includes no vegetables or grains, she eats only raw meats and raw bones, nothing is ever cooked.  Also included in her BARF diet is Salmon Oil, Cod Liver Oil, Fresh Whole Eggs (including shells), Bovine Colostrum, Natural Yogurt, and Raw Honey.
Brandy`s favorite supplier of fresh red meat organs and meaty bones is our local butcher, Metzgerei Blaser in Frick.

Pictured here is one of her favorite meals, fresh green tripe… Brandy is a princess in the eyes of the butchers there and gets spoiled now weekly by them.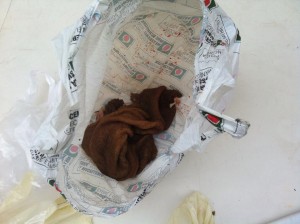 This piece of green tripe below was part of Brandy`s breakfast that included a small chicken back.
Some of the fat was removed as we try and keep a fit puppy dog!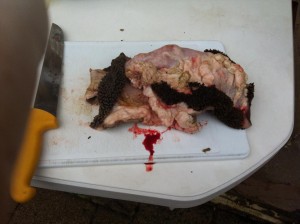 Brandy also loves her supplier of fresh chicken backs, chicken necks and chicken hearts!
This morning we picked up 10kg of fresh chicken backs, 5kg of chicken necks and 5kg of chicken hearts from our supplier "Knuess" in Mägenwil