BARF Minced Mega Burger Recipe
BARF Mega Burger Recipe
This frozen mega burger will be an afternoon or evening snack for Brandy, depending on the days training.
Below is a BARF recipe for healthy, nutritious mega burgers for dogs using chicken backs, chicken hearts and fresh green tripe.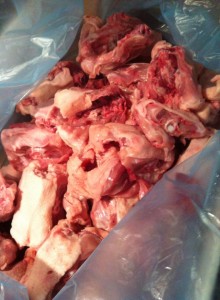 Keep in mind that this is for a puppy age 3 months and will be used for the next three months. Once she reaches the age of 6 months we will discontinue using the Bovine Colostrum.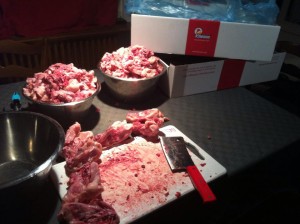 The amount of BARF minced mega burgers will be approximately 80+- pieces @ 200g each when all is minced, mixed, formed and packed, minus a taste test .
My BARF recipe for Minced Mega Burgers For Dogs;
10 kg Chicken Backs
1 kg Green Tripe
1 kg Chicken Hearts
40 Whole Eggs (Shells included)
30 tsp Salmon Oil
30 tsp Cod Liver Oil
40 capsules Bovine Colostrum @ 400mg
40 tsp Raw Honey
More photos are to follow, above is just planned preparation, reducing size of chicken backs to pass through meat grinder…