Training Brandy The Dog For Truffle Hunting
After 2 weeks of training inside the house with Brandy the dog searching for black truffles, we decided that today was a weather perfect day to move outside. The forest location is a mixture of nut bearing trees that lie on a south facing hill in the north eastern part of Switzerland.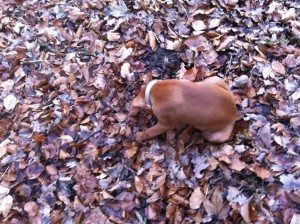 To start with, you should know that Brandy was not allowed to have breakfast this morning, the only bowl around was filled with fresh water.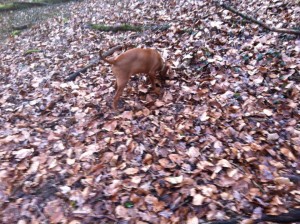 When training, it is important that the truffle dog be hungry, not only for the yummy rewards of finding her prey, but as well to keep her healthy. Working on a full stomach can lead to digestive problems and we want to avoid this entirely.

Brandy, our female Hungarian Magyar Vizsla is now 12 weeks old and as stated above she is in her second (2) week of training, to search out and find "Black Truffles".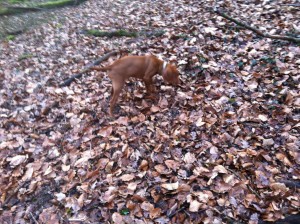 Her inside training went very fast as she is quick and eager to learn anything that will reward her with a yummy for doing a good job. This canine breed is an intelligent dog breed that loves to please its master and goes beyond the call of duty when performing tasks.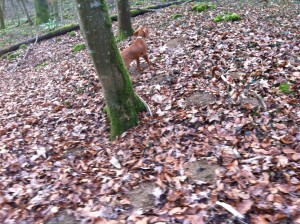 Todays training session lasted 1.5 hours, with her being 80% spot on with her finds… very impressive for the first time training outside. Brandy worked very hard at sniffing for truffles and was only distracted twice throughout the training period. Once by a small black squirrel that was enjoying the nuts and the other time by passing hikers, to whom she greeted with enthusiasm and delight. That was when we ended our truffle training session due to her excitement of meeting strangers.